Springwood teacher curates London art show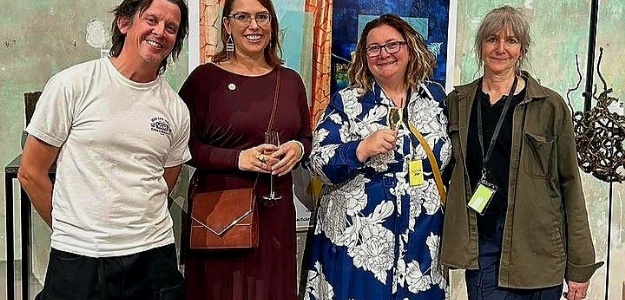 A West Norfolk artist and teacher who appeared on TV's Landscape Artist of the Year, and was shortlisted for the prestigious Sir John Hurt Art Prize, has curated a London art exhibition featuring the work of over 120 artists.
Lee Eveson, Head of Art and Photography at Springwood High School, creates under the name EVES, and is known outside of the classroom for his acrylic and spray paint works, which are inspired by the Norfolk landscape.
The London exhibition, titled 'Home', saw Mr Eveson working with fellow artists Jill Desbro and Rebecca Tucker to showcase the work of the ArtCan group, a non-profit artist conglomerate, which has over 590 members across the UK and beyond.
This year ArtCan celebrated its tenth anniversary, and the exhibition took place at The Department Store in Brixton. Artwork on show included painting, sculpture, photography, printmaking, textiles, installation, and film.
"This was the second ArtCan exhibition which myself, Rebecca and Jill had curated," said Mr Eveson. "The theme of the exhibition this year was 'Home', which is something which shapes and encompasses all of us, especially in a school setting, and is particularly poignant at the moment.
"We had well over 250 applicants from across the UK and Europe for this exhibition, and were thrilled with the standard of submissions we got, with 127 artists making it through to the final show."
Mr Eveson was also exhibiting his own work at the show, with a Norfolk seascape called 'The Nail That Sticks Out'.
"It's an image of an old boat dragged up on the beach," he explained. "The majority of my work is primarily based on the celebration of the local vicinity and its landscape. Even after moving here ten years ago, I regularly have to double-take the beauty we are surrounded by."
The artist has been supported in his endeavours by colleagues and students at Springwood.
"Springwood is an amazing school to work at," he continued. "As always, Springwood Leadership Team has done nothing but encourage me and support everyone, as they do in the whole community, which I think is the ethos of the school for staff, students and parents.
"Whereas in some educational settings, the arts is a sideline activity, I'm so happy to say that at Springwood it is an important part of its daily life, with many of our students becoming the practitioner-entrepreneurs of tomorrow."
Mr Eveson also discovered an unexpected connection between his art and the school when talking to ArtCan founder Kate Enters.
"I found out whilst at the exhibition that all of Kate's nieces and nephews attend Springwood High School, and I have been really lucky to have taught all of them," he added.
"I think it is so important to promote the arts, and for the students at Springwood to see their teachers practising what they preach.
"Being able to see what other creatives are producing and making means that this flows directly into my teaching. I'm also a real example, as are the staff I work with, of people who are still passionate about making art, music, drama and dance, and doing it on a daily and weekly basis."