Charity coffee morning is a treat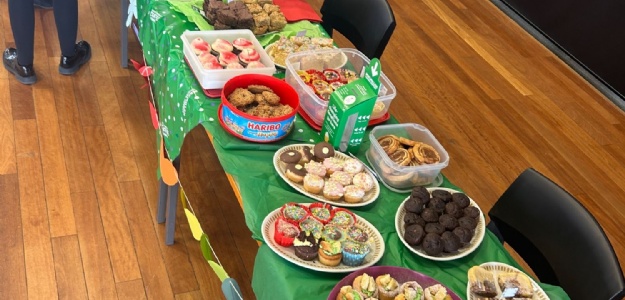 It was time for drinks, cake and other home-made treats, when a Hunstanton secondary school held its latest charity fundraising venture
Seventeen altruistic students at Smithdon High School hosted a Macmillan Coffee Morning to raise funds for Macmillan Cancer Support, collecting over £160 for the UK cancer care support charity.
"The event is held each year and organised by Year 10 and Year 11 Award Scheme Development and Accreditation (ASDAN) students as part of their course, as one of their assessment tasks is to 'raise funds for a charity or cause'," said Laura Ruskin, who teaches Art and Design and Design and Technology.
"The students advertised the event by creating posters, Twitter posts, and sending emails to liaise with key staff; they also created decorations and helped to bake and decorate cakes to be sold on the day."
The coffee morning, supported by staff and students, raised £163.18 for the charity.
"The event took place in the main hall and was accessible to the entire school, both staff and students, on the day, who were able to go along and buy cakes and other yummy treats and drinks for a donation," continued Miss Ruskin.
Other members of staff supporting the students in their fundraising project included the group's teacher, Kayleigh Brown, and Learning Support Assistant Lauren Thrower.
"At Smithdon, we take pride in being able to run events like these, and participate where we can in raising money for important causes, both for our local community and the wider population," added Miss Ruskin.
"It is really important for us to be able to raise awareness and money for important causes."